Reuben's Heroes: Dad Edition
http://www.sbnation.com/lookit/2014/9/25/6843347/devon-still-daughter-instagram

Sverdlovsk, Russia in January 2015. Young father, his wife and children went to ice skating rink to enjoy skating. There were also some boring drunk guys with red hat and his friends sparked a smoke bomb in ice rink. They threw the smoke bomb and it went to near the young father and his daughter. He decided punish drunk guys and hit first drunk and second, and they started fighting but nobody could catch him. After the short fight, drunk guys went away away for drinking.

Actually, the young father is a professional ice hockey player.
http://www.theplayerstribune.com/a-guy-like-me/
John Scott wrote:"Do you think this is something your kids would be proud of?"

That was it, right there. That was the moment they lost me.

At first, when it became clear that I was going to win the All-Star fan vote, I understood the league's position. They didn't mince words — This is not a game for you, John — but I understood all the same. Honestly, on some level, I agreed.

In the beginning, at least, I just wanted the entire thing to go away. We were on a really fun run in Phoenix, and I was starting to feel like I was part of something. The Coyotes had been picked to finish dead last — but in the first half of the season, we'd surprised a lot of people. We were this strange collection of underdogs, and I fit right in. And I fit right in by doing what I do best: being a locker room guy, a no-nonsense guy, and a quiet yet effective enforcer.

I've gotten texts from so many guys saying the same thing: "You should go."

One of the reasons I've made it as long as I have in the league is because I specifically know I'm not an All-Star.

So when they asked me to make a statement — nudging the fan vote in another direction and denouncing the John Scott "movement" — I did it without hesitation. I told the fans, "Listen. I don't deserve this. Vote for my teammates." And I was telling the truth.

But while I don't deserve to be an All-Star, I also don't think I deserve to be treated like I've been by the league throughout this saga. I'm an NHL player — and, whatever my set of skills may be, that I'm an NHL player is no accident. I genuinely believe that when I'm on the ice, or even just the bench, I make my teammates feel safe to do what they do best.

Does that make me an elite player? God, no. Am I going to be nervous as hell when I step onto the ice on Sunday — and I'm playing three-on-three, with Tarasenko whizzing by over one shoulder, and Toews putting the moves on me over the other? Of course. Will I be the worst skater in the game? I mean, probably.

But at the same time: this isn't Charlie and the Chocolate Factory. I'm not some random person off the street, and I didn't win a golden ticket to "play hockey with the stars." I won an internet fan vote, sure. And at some point, without question, it was a joke. It might even finish as a joke. But it didn't start as one. It started with a very small pool, out of a very small pool, out of the very, very smallest pool of hockey players in the world: NHLers. That was the vote. A fan vote, an internet vote — but a vote from among the 700 or so best hockey players in North American professional sports.

And I'm one of them.

If the league thought this was an embarrassment, pretty much all of the players I've encountered have thought otherwise. I've gotten texts from so many guys saying the same thing: "You should go."

And that didn't happen because of the internet. I busted my ass to be one of them. I've skated every day since I was three years old to be one of them. I've persevered through Juniors roster cuts, Alaskan bus rides, Advanced Dynamics exams, and — yes — fights, to be one of them.

But I'm one of them. And that means a lot to me.

It means a lot to my family.

So when someone from the NHL calls me and says, "Do you think this is something your kids would be proud of?"

… That's when they lost me.

That was it, right there. That was the moment.

Because, while I may not deserve to be an NHL All-Star, I know I deserve to be the judge of what my kids will — and won't — be proud of me for.

The irony is that my daughters are two of the biggest NHL fans around. My oldest, Eva, loves hockey. Loves watching me play. Loves following my teams. And, yeah, she's super-pumped about All-Star. My youngest, Gabriella, is a little too young to "follow" it — but she loves it all the same. She has all of my jerseys — from the Blackhawks, to the Wild, to the Rangers, to the Sharks — and she wears them constantly. And, in Phoenix, whenever Daddy would leave for a big game … she'd be right on cue: ahhh-oooooh. (That's a coyote howling.)

When they see me on the ice on Sunday, will my girls be proud of me? Who knows. I like to think so. But I know they'll be there for me — for their big, goofy dad — no matter what. They'll be there, in the stands, cheering me on — wearing their Scott jerseys, and watching me try my best, have some fun and fulfill a dream I've had since I was, well, their age.
Later, in the hallway outside the home locker room, Scott found his wife, who feared all the excitement might induce labor, and his two daughters, both of whom wore No. 28 Coyotes jerseys with "DADDY" on the back. He knelt down beside Eva. She kissed him on the cheek.

"Did you have fun at the hockey game?" he asked.

"Yeah."

"Did you say, 'Go, daddy, go'?"

"Yeah."

Father 'a little bruised' after saving son from bat
Tub of Lemon Chobani




Posts

: 801


Pizzas

: 180


Join date

: 2013-01-13

Guy in the upper right hand corner would be perfect emoticon material if more of his head were visible.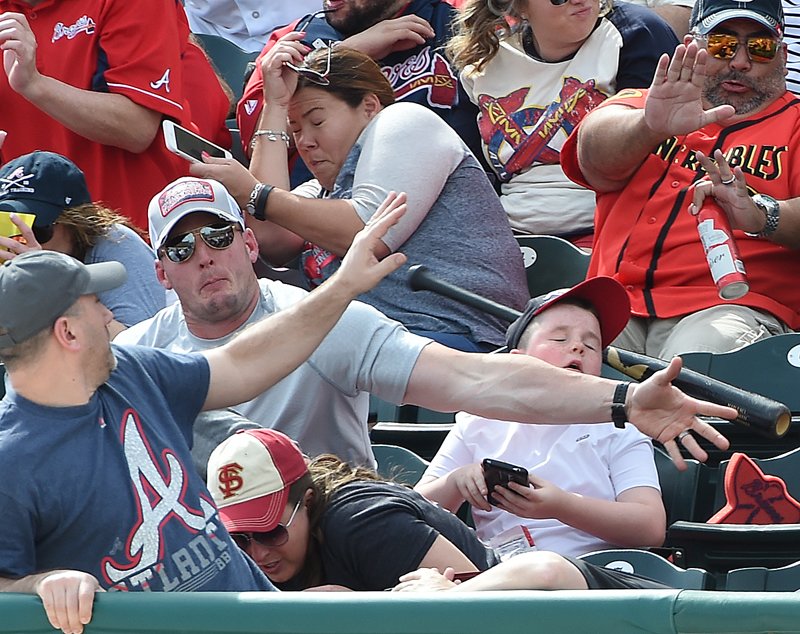 President Pence




Posts

: 2832


Pizzas

: 258


Join date

: 2013-01-03

even the burliest men look dainty with one of those aluminum macrobrew pints in their hand
These Irish Dads R all incredible.

https://theawl.com/twenty-eight-chickens-70cb7decaa58#.kjmgog55m